Ahh…even after the Flyers dispatched the Penguins in the first round of the playoffs, the faithful Flyer fans are still letting Crosby have it.  If anyone is in Philly and wants to sample one of these bevies, make your way to The Nodding Head Brewery.
Will Ovie be called on the carpet for this one?  It is hard to say, but he is a repeat offender and he does appear to leave his feet prior to the hit.  The final factor would be if it was a hit targeting the head of Dan Girardi.  I haven't been able to find any clear footage of that, but if someone does have footage that shows contact to the head, then past history would lead us to believe that Ovechkin will have a meeting with Shanahan.  The way that Ovie has been playing for Dale Hunter and watching his ice time drop, he doesn't seem to be endearing himself to his coach.  Hunter has always been a coach that holds his players accountable and no one gets a free ride.
I know that I have touched on this topic in the past, but do Dale Hunters numbers warrant a look by the Hall of Fame?  Dale Hunters stats will hurt him and help him.  Hunter has played in 1407 games, tallied 323 goals and 697 assists for 1020 points, but has also earned 3563 pim.  Is the Hall afraid of penalty minutes?  Or is it simply because Dale never led a team to a championship?  To gain entry to the Hall, according to the Hockey Hall of Fame, skaters must have at least 300 goals, 700 assists, or 1000 total points, and have played in a minimum 700 regular season games.  The Hall will meet on June 26th, 2012 to discuss the potential inductees.  Please keep in mind that all of these names are off of the Hockey Hall of Fame website, which lists the potential inductees.  You can view it for yourself here; http://www.hhof.com/htmlInduct/ind12prolog.shtml
Joe Sakic is pretty much a lock with 1641 points and 2 Stanley Cups.  There is no arguing that Sakic is probably the top dog out of all of the eligible players…but the list gets a little confusing as you read it. 
Jeremy Roenick is another no brainer.  1363 games played, 513 goals, 703 assists for a total of 1216 points.  He doesn't have any championships, either at the NHL or International level, but that shouldn't affect his chances. 
Brendan Shanahan is another easy choice.  Shanahan has played in 1524 games, totaling 656 goals and 698 assists for a total of 1354 points. 
Even though I am not the biggest Sundin fan, he has played in 1346 games, totaled 564 goals and 785 assists, for a total of 1349 points.  Sundin does not have a Stanley Cup Championship, but he does have one championship from International play.
Gary Roberts has played in 1224 games, 438 goals and 472 assists for a total of 910 points and 1 Stanley Cup.  Good numbers, but this won't be his year unless the Hall decides to induct 4 forwards.
Now, here is where the list is a little bit confusing; and remember, this is directly off of the HOF's website for potential inductees for forwards.
Bobby Holik has played in 1314 games, scored 326 goals and 426 assists for a total of 747 points with 2 Stanley Cups.  Statistically, Hunter is better.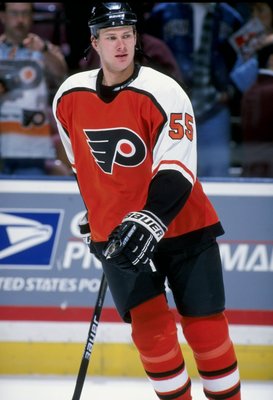 Chris Gratton has played in 1092 games, tallied 215 goals and 354 assists for 568 points and zero championships.
I'm not going to do that for the rest of the names on the ballot as forwards, but I will tell you who else is eligible.  Martin Gelinas, 660 points, Claude Lemieux, 786 points and 4 championships, Michael Peca, 465 points and Mike Sillinger, 548 points. 
Statistically, Hunter is better than all of those players, but his name is not even listed as a potential inductee?  Why is that?  Is it the PIM's?  Lemieux has about half the amount of PIM's as Hunter, but his reputation is very similar to Hunters.  Dale Hunter meets all the requirements as a potential inductee, but why is he not listed?  Are they trying to make a point by putting someone like Sillinger as a potential inductee but not Hunter?
Jordan Carver yoga pose of the week:
Thanks for stopping by.
Have a great week.