While deciding on whether to attend a high school girls All-Star game...
And don't forget, you can follow me on Twitter: @TheOneTrueJay
MEN'S COLLEGE BASKETBALL
There's been a number of games that I've caught here and there over the past week. While nothing has really made me stand up and cry out to the heavens, "THAT WAS FREAKING AWESOME!", the games have been largely entertaining from what I've seen.
As we await the men's bracket announcements tonight, I can say that I am hoping for my buddy Brian's Providence College to do well. They've had quite a run for themselves so far this year despite a lack of available bodies. Whether due to injury or suspension, they've got little in the way of a bench. Their top player, senior Bryce Cotton (pictured below), has played nearly every minute of every game.
Since neither of my Boston College basketball teams are headed to tournament play, I might just have to find myself pulling for the Friars.
You can check out this Luke Winn article from SI.com for a brief overview about PC and a great quote from head coach Ed Cooley: http://sportsillustrated.cnn.com/college-basketball/news/20140315/providence-creighton-ed-cooley-bryce-cotton/index.html
Oh by the way, the Friars pulled off a huge upset on Saturday night by beating #14 Creighton in the Big East tourney final and clinched the automatic berth to the NCAA tournament. The Friars are going dancing. Bryce Cotton led the team (playing just 6 players in the game) with 23 points.
Former PC coach Rick Barnes looked to be on his way out at Texas with the team in turmoil, but as pointed out in the following article, they have turned things around and made Longhorn basketball a factor again: http://sportsillustrated.cnn.com/college-basketball/news/20140312/rick-barnes-texas-basketball-revival/index.html
ESPN had a nice read about Dean Smith as the college coaching legend deals with dementia. You can check that out here: http://espn.go.com/espn/feature/story/_/id/10545949/precious-memories-dean-smith-story
It's not a school you hear much about come tournament time. After all, it isn't like Wofford is expected to win a game much less make a run for the title. But after the Terriers won the Southern Conference title and the automatic bid to the Big Dance, it was the post game interview from Aerris Smith that got a lot of buzz. The senior has dealt with knee injuries all year and during the post game interview the senior told the radio announcers that the tourney final win was his last college game as he heads for surgery. The following link tells the story and contains a Youtube link to the interview. The emotion coming out of Smith is amazing. Read it here: http://extramustard.si.com/2014/03/13/wofford-aerris-smith-interview/
Before moving on, has there been a more exposed as an overly flawed team than Syracuse the last few weeks? When they won on a buzzer beater to improve to 25-0, they looked like they were unstoppable.
Then came a stunning loss to my BC Eagles and thing seemed to unravel for the Orange from there. They had dropped all the way down to #11 before losing again in the ACC tourney to NC State. They've lost 5 out of their last 7 games and unless Jim Boeheim can figure something out, Syracuse looks to be an early out this season in the tourney.
BOSTON COLLEGE ATHLETICS
Men's Basketball - Speaking of BC men's hoops, the Eagles closed out the regular season with a 78-68 loss to NC State. Of course, when you give up 42 points to any player (as they did to the Wolfpack's T.J. Warren), a loss can't be too much of a surprise.
The Eagles finished their ACC schedule with a 4-14 record despite getting 29 points from Olivier Hanlan and 15 from Ryan Anderson.
The Eagles then saw their season come to an end in the first round of the ACC tournament when they fell in overtime to Georgia Tech 73-70. The loss ends their season at 8-24.
And the loss gave one final showing of a pattern that developed for the Eagles during the season. They were down big late in the game (13 points against the Yellowjackets), rally back to tie things up and force the OT, and then take a lead in the extra period. Then somehow manage to blow the game regardless.
It is frustrating as hell because the Eagles have talent, they just have absolutely no idea how to play defense. I understand that they are in the toughest conference in men's college hoops, but when the game is on the line, they play defense as if they were 80 year old men with walkers instead of college athletes in prime athletic condition.
Patrick Heckmann, who's scoring touch seemed to return late in the season, led the team with 21 points. Hanlan scored 16 points and Anderson had 15 points.
The team is only losing one player to graduation this year. I'm hoping that everyone else returns (not getting deluded into thinking they are ready for the NBA). And the news came late in the week that coach Steve Donahue would be back for a fifth season at The Heights.
But if they can't figure out how to play defense, it will be another long season.
Football - The school held their Pro Day for BC players looking to get themselves drafted by the NFL this year. The headline player on the day was of course, running back Andre Williams.
He was looking to improve his speed after a somewhat disappointing time at the NFL combine. You can read about his day here: http://mmqb.si.com/2014/03/14/andre-williams-nfl-draft-journey/
WOMEN'S COLLEGE BASKETBALL
It looks like there is only going to be one of the teams I follow that makes the NCAA tournament this season.
But before we get to those recaps, I saw this article on SI.com on Friday night about the Oregon State women's team. It was written by Lindsay Schnell who has been absolutely killing it the last few weeks with her articles. That streak continued with this article as well: http://sportsillustrated.cnn.com/college-basketball/news/20140314/oregon-state-womens-basketball/index.html
Tennessee - The Lady Vols once again found themselves trailing by double digits in the first half of their SEC tourney game, but they rallied back and ended up beating Kentucky 71-70 to improve their record to 27-5 on the season. Oh and since this was the tournament final we're talking about here, they got the automatic berth to the NCAA tournament.
Meighan Simmons scored 17 points (becoming the fourth Lady Vol to go over 2,000 career points). Isabelle Harrison added 16 points and Jordan Reynold had 11 points.
While in the early rounds, the Lady Vols will likely not be faced with an overly daunting opponent (that doesn't mean they can sleepwalk through the games of course), if their streak of games where they face deficits of 10 points or more continue, their "Grind for 9" campaign is going to be coming to an early and decisive end against the teams they will face in the later rounds.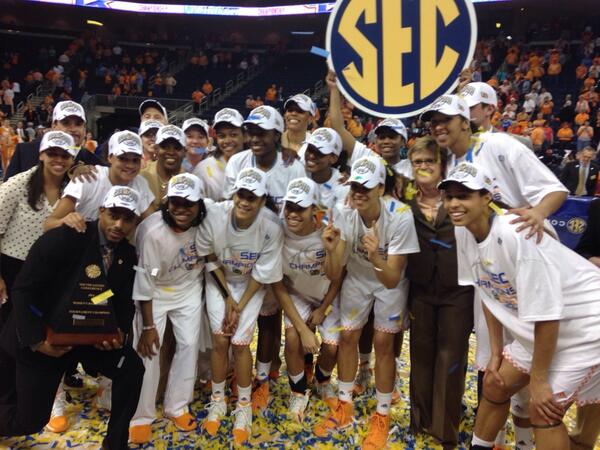 Hartford - The Hawks season came to an end with a 65-51 America East tourney loss to top seeded Albany. They finish at 13-18 for the season. Amber Bepko finished with 21 points to lead Hartford. Going into the offseason, they have certain pieces of the puzzle in place (Bepko, Mayza, Moore in particular), but coach Jennifer Rizzotti is going to have to see a talent infusion and more cohesion from her team if they want to get back to the tournament.
Bepko will be a senior next year and after finally getting to see her play in person when the Hawks traveled to Boston College this season, she's going to have a great final year if she can be consistent in her scoring all season long. But she can't do it alone and everyone is going to have to raise their games to become better as a team.
You can see highlights of the final game below.
Missouri State - The first regular season under coach Kellie Harper came to a close with a 93-56 loss to Wichita State. The Lady Bears finished with a 13-16 overall mark (8-10 in conference play).
They had a season high 27 turnovers in the game against the Shockers. Hannah Wilkerson led the team with 14 points while sisters Bry and Tyonna Snow added 10 points apiece.
In the Missouri Valley Conference tournament, MSU picked up a first round win over Southern Illinois thanks to a game ending 15-0 run, giving them a 61-39 victory. Wilkerson and Tyonna Snow had 12 points apiece to top the scoring column while NiJay Gaines had 10 boards.
But any hope of post season play came to a screeching halt on Friday night when they lost to Wichita State 71-53. According to the game recap, the Lady Bears held strong with the Shockers for the first 30 minutes of the game before falling to defeat.
Desiree Phillips scored a career high 13 points in her final game. She is one of four graduating seniors on the team. Seniors Hannah Wilkerson (11 points) and Bry Snow (10 points) were also big for the team in their final games.
A 14-17 record under Harper duplicates the record the team had last year (though the conference mark was a couple games better). Not a stunning turn around but at least they weren't worse off. But now with the need to replace Wilkerson and Bry Snow in particular, not too mention weathering the absence of Kenzie Williams (ACL tear) until late in the season, the Bears are going to need more talent and a team that quickly adapts to their new roles next year.
BOSTON CELTICS
The Celtics had a busy week that started off nicely then crashed and burned. They beat the Pistons 118-111 behind 27 points from Jeff Green and 20 points, 11 rebounds from Kris Humphries.
Kelly Olynk (18 points), Jerryd Bayless (15 points) and Jared Sullinger (14 points, 8 boards) also contributed in the win.
The most notable thing from the statistical viewpoint was Rajon Rondo's game. I mentioned in the previous Sunday Musings how he'd had 9 assists but 7 turnovers in the game before this Pistons matchup. And how that was a bit worrisome to me.
So what does Rondo do against the Pistons? The 11 points he scored were a sideshow compared to the 18 assists he dished out to go with ZERO turnovers. Guess I'm just going to have to keep my opinions on his turnovers to myself.
But that was kind of the end of the good news for the Celtics.
First there was a 94-83 loss to the Pacers. Sullinger led the team with 17 points and 9 boards. Given that the Pacers are the best team in the East, a loss is not a surprise but rather just disappointing.
They then lost 116-92 to the Knicks. I watched the first half of that game and defense was a dirty word for Boston as the Knicks just shot the lights out against them. Dave Cowens was the in studio analyst for halftime and when asked how the Celtics could come back from what was then a 20 point deficit, the best he could offer was for them to make all their shots and not let the Knicks hit any shots...for the entire second half. Jeff Green had 27 points to lead the Celtics in this game.
On Friday night, the Suns beat Boston 87-80 to drop Boston to 22-44 for the season. Kris Humphries had 11 points and 13 boards to lead the Celtics. They also got 11 points from Chris Johnson. Kelly Olynyk had 8 points and 10 boards.
The painful season to watch continues. Hope abides for improvement down the line, but it doesn't make each paper cut of a loss any easier to bear at the time.
In other NBA news, the Lakers announced this week that Kobe Bryant would officially be out for the rest of the season. Given the status of his injury and the total crapfest that is the Lakers season, this is not much of a surprise. I guess the only surprise is why it took so long to announce what seemed to be a foregone conclusion by most anyone paying attention.
We all know about Kobe's work ethic, but as the season started spiraling downward for the Lakers, anyone but a moron would've realized that it would be better to shut him down and let him focus on getting as completely healthy as possible and starting again NEXT year.
And the Knicks being the worst kept secret team of the week will introduce Phil Jackson as their new president on Tuesday. Yep, they are making official what everyone guessed would happen a week ago.
The problem with the Knicks remains the product on the floor. What will be done with Carmelo Anthony? How soon do they fire Mike Woodson? Who will be the new coach? How will they import more talent to the roster? And the biggest question...will Jackson be able to provide answers to all these questions?
Most importantly, the hope is that Jackson will be given full control of the team's decision making. He hasn't done anything like this before but he can't possibly be worse than Knicks owner James Dolan has been. Dolan needs to step aside and just be an owner. He needs to not be seen or heard. And he needs to let actual basketball people do actual basketball jobs.
Will this happen? I doubt it, egomaniacal rich people don't change their tune. But here's hoping that will become the case. Otherwise, the Knicks will remain the mess they have been for most of the last decade.
NEW ENGLAND PATRIOTS
The good, the bad and the ugly managed to worm their way into the Patriots offseason this week.
The Pats signed cornerback Darrelle Revis to a 1 year 12 million dollar deal. After losing Aqib Talib to Denver in free agency, they had to make a move to shore up an already weak secondary. This is a big dollar deal for the Patriots who are usually loathe to lavish such a high salary on anyone not named Tom Brady.
But it had to be done to show they are serious about improving a team weak spot. They also signed Brandon Browner to a 3 year 17 million dollar deal. His talent almost guarantees the secondary will be highly improved instead of just treading water from where the grouping was last season. But unfortunately, his signing comes with the realization he won't be available for the first four games of the season while serving a PED suspension.
On the offensive side of things, it was going to be bad if their primary receiver last year, Julian Edelman, found a new home in free agency. He was testing the open market. Danny Amendola cannot be our #1 receiving option!
Thankfully, yesterday afternoon, the news broke (by Edelman himself on Twitter) that he had re-signed with the Patriots.
As for the bad, it actually spills over into the ugly as well. After the Patriots approached Vince Wilfork about restructuring his contract, Big Vince not only turned them down, but told the club he wants to be released from the team.
I know the 11 million dollar cap hit and the fact he is coming off a major injury are factors in the decision to try and work out a different deal with him, but this is Big Vince we are talking about. The Patriots were demonstrably worse off when he got hurt and he is one of those franchise cornerstones teams need.
I don't know how this is going to be resolved but 10 years with Wilfork as the massive presence in the middle deserves a better ending than a simple cold hard "It's a business" finale.
NHL
In regards to the Rich Peverley situation down with the Dallas Stars, I saw the news announcement that he was out for the season. I had to shake my head and wonder why it took a few days to actually come out with the release.
THE GUY HAD A FREAKING CARDIAC EVENT ON THE BENCH IN THE MIDDLE OF A GAME!
It should've been something that was immediately tied into the news story that it happened in the first place.
There's a lot of injuries that you can come back from over the course of one season, but of all things that could possibly happen, a damn heart attack in the middle of game should be an automatic YOU ARE DONE FOR THE SEASON!
The former Boston Bruin scared the hell out of both teams so bad, they had to postpone the game because the players were so shook up.
Maybe I'm being overly cautious but if he doesn't have to take and pass a list of tests a mile long with flying colors, then doctors and teams are likely to be the biggest idiots on the face of the planet. And even if Peverley does pass those tests, should he really come back? There would have to be some sort of system in place that could completely guarantee something like this would never happen again. It is a hard hoop to make someone jump through to continue being employed, but if I'm a team owner the last thing I want to do is explain to the man's family why he was allowed back only to collapse and die on the ice.
Here's to a return to full health for Peverley (pictured below from the Bruins Cup win) but goddamn man, please consider every aspect of your life before rushing back will ya?
HIGH SCHOOL BASKETBALL
The video of the second Upper Cape girls basketball game I called is online. You can check it out here:  http://vp.telvue.com/preview?id=T01161&video=188543
I had a good time with the two games I was able to do the call for and the guy in charge of filming and the coach both want me to do more games next season.
Speaking of UCT basketball, a hearty congratulations goes out my ex-player Michaela. At the banquet for the winter sports teams this past week, she received the team defensive player of the year award.
And as you might expect, with tournaments underway everywhere right now, there had to be some buzzer beaters to check out. And I saw this one from Michigan on Yahoo Sports! It was a hell of a shot to be sure. A regional final with .8 seconds left on the clock at you get this finish:
MISCELLANEOUS
Books - My book review for the spy thriller I Am Pilgrim by author Terry Hayes went up late Sunday last week. I've gotten good feedback on the review from the publisher including "what a well thought out review" and "didn't realize it was your first ever book review and honored it was for Pilgrim and impressed that it was so good". You can check out the review here: http://www.pop-topia.com/book-review-pilgrim-terry-hayes/
I picked up a couple of new books this week too. The new Mary Daheim mystery The Alpine Xanadu and Robert K. Tanenbaum's thriller Tragic.
And thankfully, I've already finished the Daheim book.
Movies - Busy week for me, I actually saw two movies. The first was The Hunger Games: Catching Fire. I thought it was far and away better than the first movie in the series.
And on Friday, I borrowed a friend's Kindle device and watched the Veronica Mars movie on it. I'm hoping to do a full review of the movie and have it up so I can include a link next week. But the quickie review was that I liked it.
TV - Three returning series released trailers this week. It was third preview trailer for Game of Thrones on HBO, while the first new trailers for the new seasons of Orphan Black on BBC America and Falling Skies on TNT.
Music - The band Helstar has a new album called This Wicked Nest due out April 29th in the US. The first song off the album is called "Fall of Dominion" and you can listen to it below. I've not been a fan of the band usually, but I do like singer James Rivera from his work with another band called Seven Witches. So I'm likely to pick up this Helstar CD and review it.